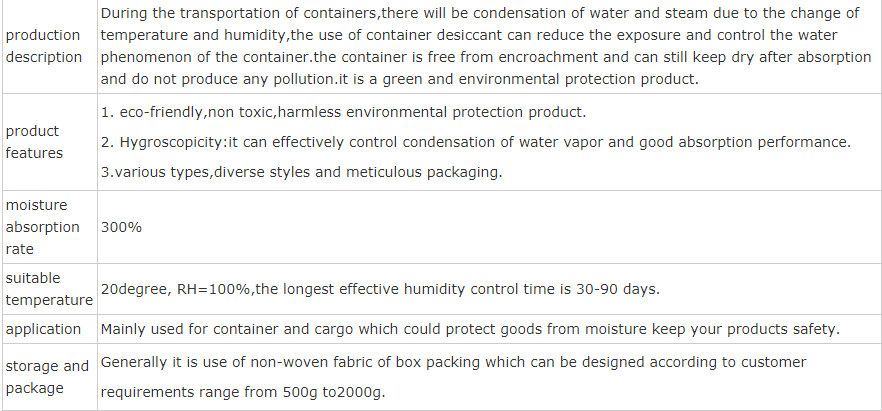 How to use container desiccant?
1. Inspection of containers:
Inspect the container for damage, such as holes or cracks in the top, bottom and bottom of the container.The container door must be tightly closed and the rubber used for sealing must be good.Containers must be dry and clean before packing.
2. Check the moisture level of the wooden floor in the container.
If possible, do not use containers with a board moisture value greater than 20%, which increases the risk of moisture. If it cannot be changed, the number of drying bars needs to be increased according to the instructions in the desiccant manual to ensure the safety of the goods. Please do not use containers with a wooden floor humidity of more than 25%.
3. Tape all container vents (square holes at the top of the door) to avoid moisture ingress during transportation.
4. Take the dry strip out of the sealed plastic bag, lay the dry strip on the inner hook of the container, and attach the lower end of the dry strip to the inner wall with tape to ensure stability. Since the container is heavily wet against the door, please hang one on each side of the door.
5. After loading the goods, close the container door in time to avoid waste of desiccant.
6. Avoid loading in the morning, evening, and rainy weather. During these periods, the air humidity is heavier, which will increase the risk of moisture in the cargo to a certain extent.
If there is no gap between the container wall and the cargo to place the drying strip, we can put the drying strip/drying bag/drying bag/crossing on the goods, but hanging the drying strip will make the desiccant reach the range of moisture absorption in the container maximum.